Toxic has been modeling and dancing for nearly a decade. She started modeling when she was 17 to help with her body dysmorphia and self esteem issues.
"It's amazing how much confidence you gain about yourself when captured through the right lens," she says.
"I enjoy the art I create and the people I meet. Because of modeling and entertaining I've met some of the most incredible and captivating people. Also I love having beautiful photos to show the world."
Toxic waited patiently for the right editorial opportunity, which happened to be "American Debauchery." That same day we shot "The Socialites," which will be released soon. But her work with me and Black Label is far from her only claim to fame.
She's been a part of SuicideGirls since the end of 2006 and has been featured on their website, their movie relaunch, and many other projects. She's also been published internationally on multiple covers. You may have seen her in Inked Magazine, Inked Girls, Tattoo/Savage, Bizzare, and Skin & Ink to name a few.
And of course, she can add another cover to that list!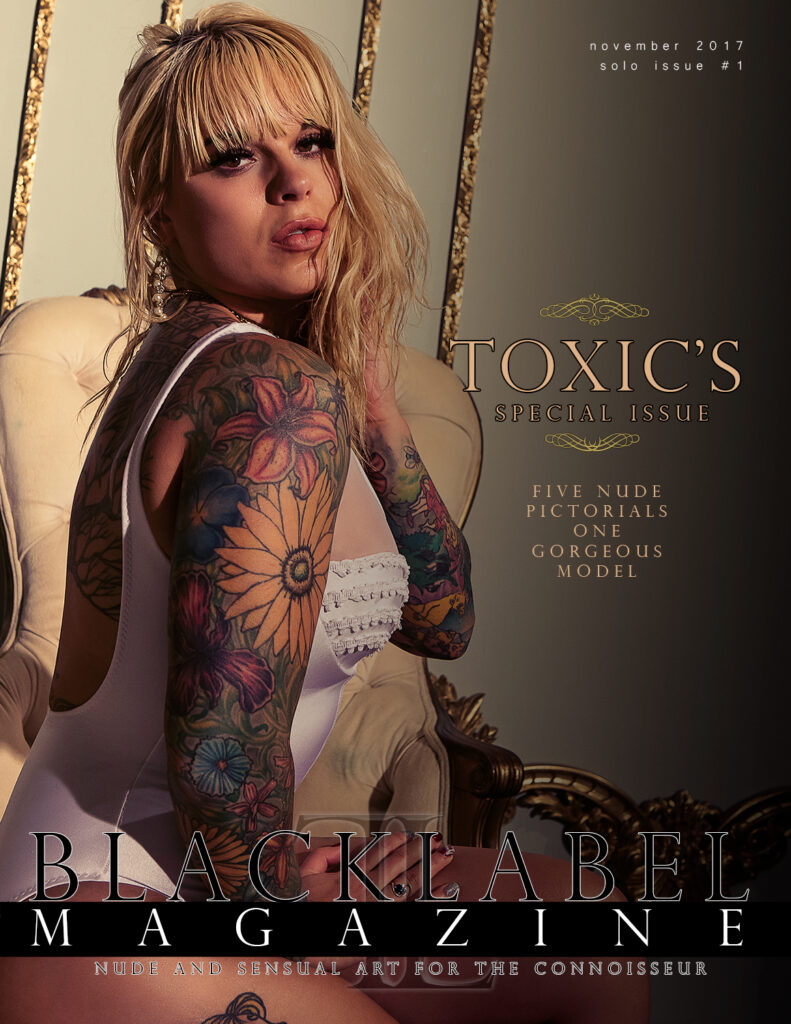 When she isn't modeling or dancing she's singing. She's quite a vocalist and right now is working hard to achieve my dreams of making a living from that. She has a singing burlesque act called "The Songful Bird" which is quite marvelous.
Travel plays into her goals as a musician. Her other passion is travel. Toxic's big dream is to travel and sing.
"I would love to share my voice with the world!"
She has traveled Europe and South America extensively, and next on her list is Australia. She's also looking to take her "Songful Bird" act to the burlesque stages of New Orleans soon!
You can see Toxic in Solo Issue #1 and of course, in the Platinum Member's Area!
Not yet a Platinum Member? Let's fix that!